Find the benefits of rice water for hair plus a DIY rice water shampoo recipe that promotes hair growth! 
You've probably seen using rice water for hair growth circling all over social media. People are saying it works. And it does – in fact, Asian women have been using rice water to wash their hair since ages ago. It not only makes their hair long but also gives it a beautiful sheen. 
Check out some of the benefits of rice water for hair:
Benefits Of Rice Water For Hair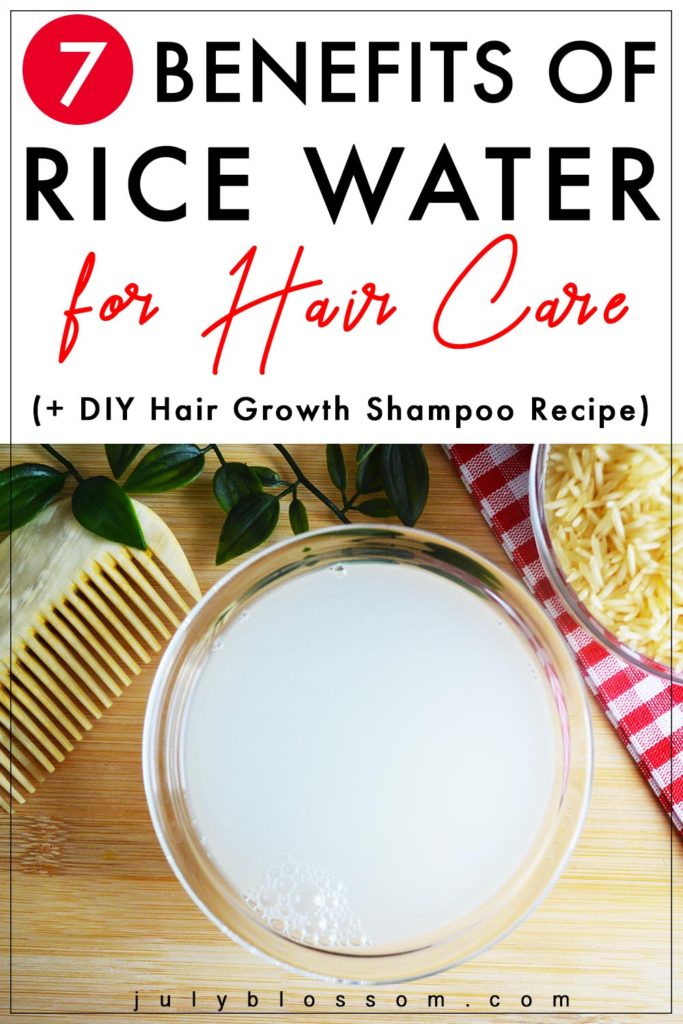 From hair growth to preventing premature greying, there are some crazy benefits of rice water for hair that you can't miss out on! 
1.    Rice Water For Hair Growth
This is the main reason why everyone wants to try rice water! It's purported to be a miracle hair grower. 
Rice water contains nutrients such as B-vitamins, Vitamin C, E and amino acids – all of which can strengthen hair and prevent too much hair shedding. 
This 2010 study shows that using rice water as a hair treatment helped reduce surface friction and increase hair elasticity, which protects hair from breakage and hair fall.
2. Rice Water For Damaged Hair 
Dry damaged hair could benefit from a rice water treatment. It has a high protein content that can protect hair from breaking and getting split ends. 
The amino acids in rice water help repair damaged hair cuticles, making them healthier and shiny. 
Rice water also contains inositol, a carbohydrate that helps repair and strengthen damaged hair naturally.
3. Rice Water For Hair Shine And Volume
Try rinsing your hair with rice water for glossy locks!
Rinsing your hair with rice water as the final hair rinse after shampooing works wonders as a natural conditioner.
It helps with easier detangling, enhances your hair texture and adds a bit of volume too. 
4. Rice Water Strengthens Hair
Amino acids and Vitamin B1, also known as thiamine, in rice water helps nourish hair, fortifying it from the root to the tip, which supports healthy, strong, long and shiny hair.
5. Rice Water Prevents Premature Greying
Another benefit of rice water for hair is that consistent use can actually help prevent premature greying of your hair. 
This may be due to the antioxidant content of rice water which fights oxidative stress and damage to hair cells which may otherwise cause early grey hairs. 
Fermented rice water is said to help hair retain its pigment, meaning you don't have to worry about grey hairs showing up earlier than they are supposed to.
Other Benefits of Rice Water for Hair 
6. Relieves scalp inflammation
7. Makes hair softer and easier to manage
How To Use Rice Water For Hair
There are three ways to use rice water for hair:
Plain rice water – Just soak ¼ cup of rice in 1 cup of water for 3-4 hours. When the time is up, filter the rice water only, add more water (1 part rice water solution to 10 parts clean water) and use it as a hair rinse in the shower.
Fermented rice water – Here, all you have to do is soak the rice water for 12-24 hours. Then dilute it with the ratio provided above and use it as a hair rinse.
Boiled rice water – Cook ½ cup of rice in 3 cups of water. When the rice is ready, strain the water out and let it cool completely before using it to rinse your hair in the shower.
Fermented rice water is said to be superior than the rest because fermentation brings down the pH levels of the rice water to match that of your scalp/hair. Fermented rice water is also said to contain more nutrients than other types of rice water for hair. 
However, beware – rice water fermented for more than 12 hours has an unpleasant smell! 
How to use rice water for hair:
After shampooing your hair, pour the rice water on your scalp and hair length, taking time to massage it in.
Let it sit for 2 to 5 minutes, then rinse off and condition your hair as usual. Some people use the rice water hair rinse as their conditioner. Some don't.
That's it!
DIY Rice Water Hair Growth Spray
Learn how to make a super easy yet effective DIY rice water hair growth spray!
What you need
Directions
Pour rice into a bowl.
Wash it twice to remove impurities.
Add 1/2 cup of water and stir to release all the nutrients from the rice.
Let it sit for 30 minutes.
Strain the rice out to only remain with rice water.
Add it to a spray bottle and leave it to ferment overnight.
The next morning, add 5 drops of rosemary essential oil and shake well.
Spray on your scalp daily or one hour before washing your hair.
DIY Fermented Rice Water Hair Growth Shampoo Recipe
Try this DIY fermented rice water hair growth shampoo recipe if you want your hair to grow like a weed!
 Below, I've put up two rice water hair growth shampoo videos (one including shikakai herbal powder and one without it) so you can have a step by step tutorial. Shikakai is an Ayurvedic herbal powder which has been used to cleanse and strengthen hair since ancient times in South East Asia. If you can't find it online, you can skip it!
Ingredients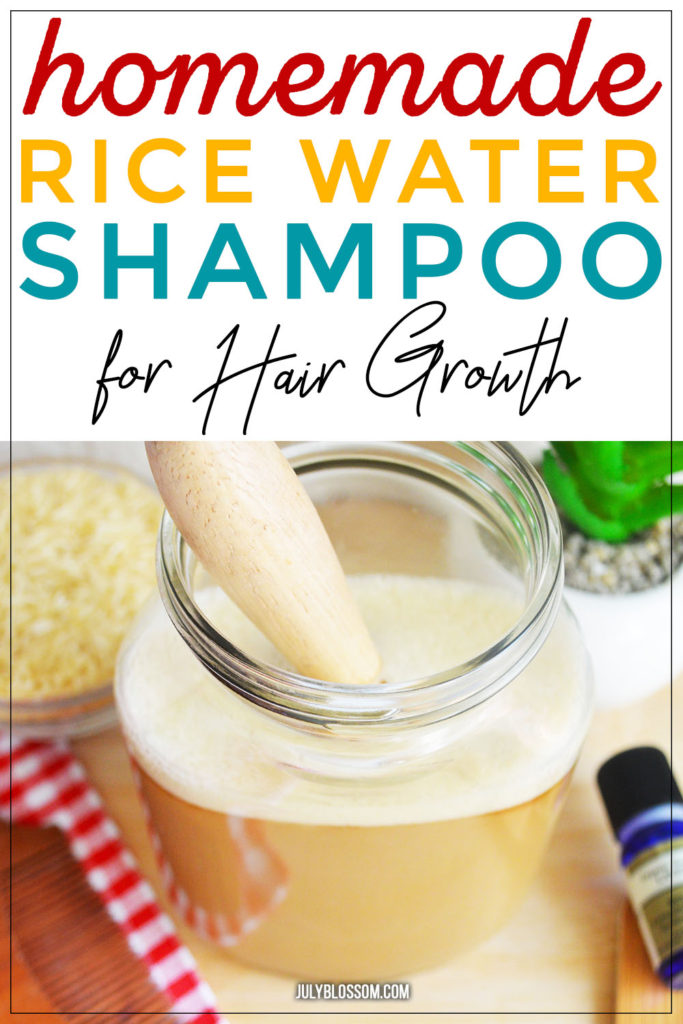 Directions
1. Wash the rice thoroughly with clean water at least twice to remove dirt and other contaminants. 
2. Now add the warm water to the washed rice and swirl it around to get the nutrients out of the rice grains into the water. 
3. Allow the rice water to soak for 30 minutes. 
4. Strain the water and let it sit at room temperature, covered for about 12 hours. 
5. Once the time is up, pour the fermented rice water into an applicator bottle. Next, pour the aloe vera juice into the applicator bottle.
6. In a separate container, preferably a Pyrex cup for easy transferring, add shikakai powder and lavender essential oil. Now pour the castile soap and mix everything with a whisk till combined into a goopy mixure. 
7. Pour the mixture into the applicator bottle. You may need a funnel, if not using a Pyrex cup.
8. Your rice water shampoo is ready for use! 
9. It can be stored for 7-14 days in the refrigerator, to preserve its freshness. 
How To Apply the Rice Water Shampoo
Pour it onto wet scalp & hair and rub in circles on your scalp for a couple of minutes to loosen dirt and allow the nutrients to seep into your scalp and hair. Rub it on your hair gently. It lathers a little, though not as effectively as store-bought shampoo. 
Rinse thoroughly with lots of water, then dry your hair as usual. 
You can alternate between this rice water shampoo and your regular shampoo. But make sure to use this shampoo consistently for at least a month to see results. 
DIY Rice Water Shampoo Video 1 (Without Shikakai Powder)
DIY Rice Water Shampoo Video 1 (With Shikakai Powder)
Notes: You can strain the shikakai powder through a double mesh strainer or cheese cloth if you want a silkier shampoo!
I hope you learned some of the benefits of rice water for hair. Don't forget to try out the rice water shampoo!